Nyanya struggles to recover from the recent bomb explosion which killed over 75 persons and wounded many others, another device exploded near the site of previous explosion, killing over 30 people.
This was confirmed in a statement issued by the National Emergency Management Agency (NEMA). The statement added that many others were injured.
It was also gathered that 11 unconscious victims were being attended to at an unknown hospital.
An eyewitness also confirmed that 30 dead bodies were lying on the streets after the explosion rocked the town on Thursday evening.
The perpetrators appeared to have targeted the temporary bus station which was created less than 100 metres from the main Nyanya Bus Terminal which was earlier bombed.
The scene is also a short distance from a military check point set up after the first explosion to detect bombs.
The blast on Thursday around 8.30 p.m. happened as many commuters were boarding buses to the city centre, with many of them caught in it.
The bomb left a crater at the point where it was detonated.
A combined team of emergency services providers, including men NEMA, Nigerian Security and Civil Defence Corps (NSCDC) and the Nigeria Police, were seen attending to victims.
Nyanya was a chaotic environment following the blast, as hundreds of onlookers rushed to the scene before they were dispersed by a detachment of military personnel.
While the crime scene had been cordoned off, people were seen going about their normal businesses in the rest of Nyanya area.
Bodies laid scattered at the scene of the blast, as hundred of sympathisers struggled to help the wounded.
An eyewitness said the bomb was detonated in a car that looked like a  Volkwagen Golf around 8.20 p.m.
Meanwhile, Nigerians have started calling for blood donations to victims of the bomb blast.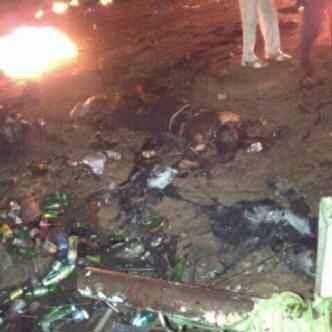 SOURCE: Nigerian Tribune